ELITE SKI RACE TRAINING SAAS-FEE. 16TH/17TH SEPTEMBER 2019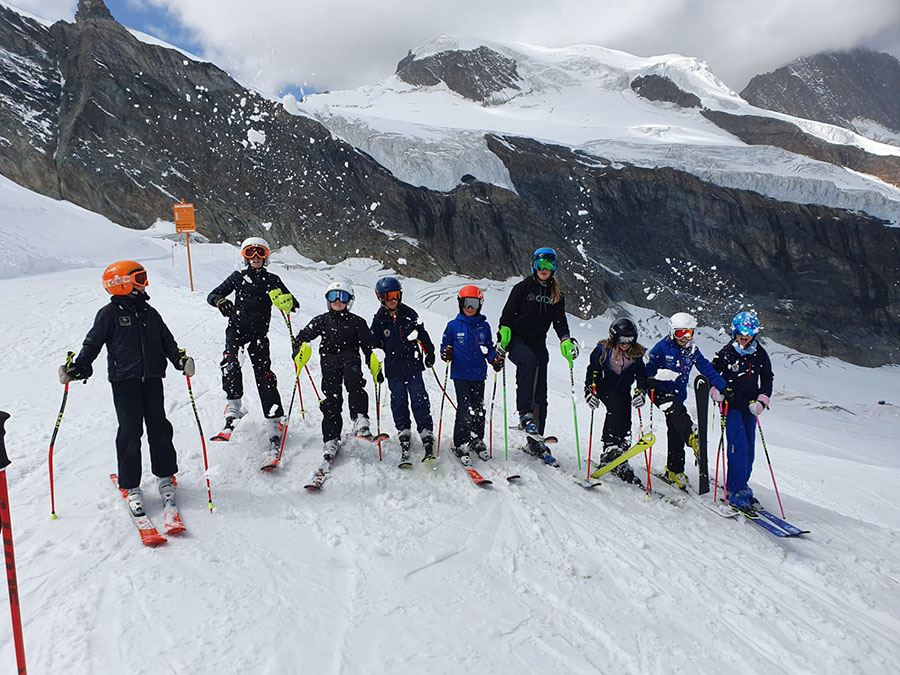 This was the first ski training session for the LVIS Elite Ski race team and all of the children were excited. We arrived at the Youth Hostel at 9 am and quickly got ready for the slopes. With our instructor, Petr, we traveled to the top of the glacier where our training began.
We skied until the lifts shut at 2 pm and then went to meet Miss Pickard for lunch. We had spent the morning doing various drills whilst Petr took videos of us skiing to help us with our technique. Exhausted from our training, we arrived back at the hostel at 3.30 pm where we then had to start our homework.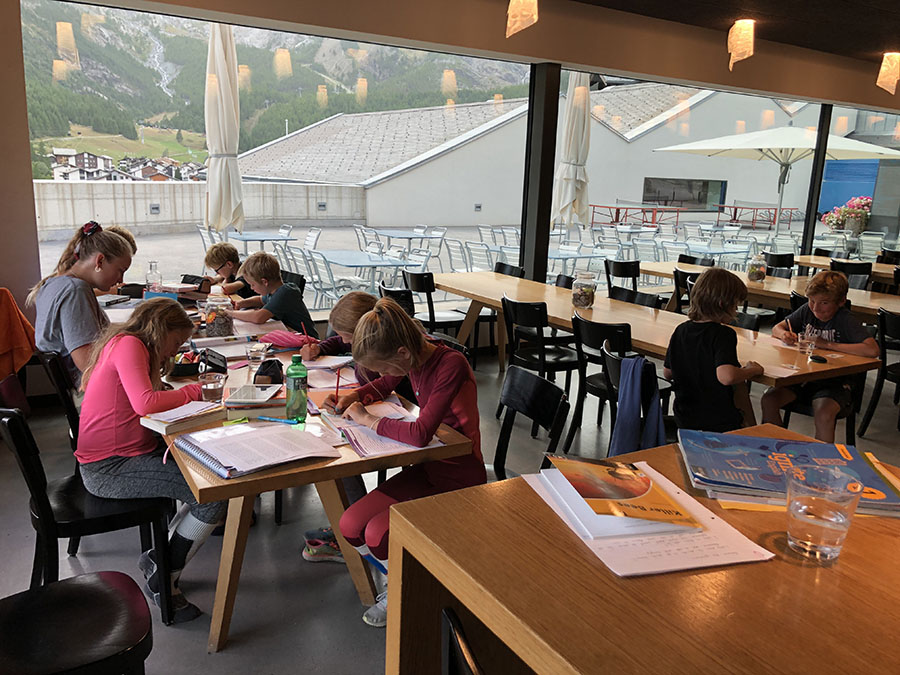 Saas-Fee is a beautiful customary ski resort located at the foundation of the Fee Glacier in the Valais Switzerland. Numerous peaks measuring more than 4,000 meters surrounds this village. The glacier offers a good opportunity for visitors to ski both during winter and summer. Saas-Fee is a car-free zone and there's no access to a train line. However, it's easily accessible by bus and cars. Saas-Fee is said to be a free republic of holidays, a description which assures visitors that they'll get a lifetime experience.
During our visit, we worked hard and we were allowed to go to the pool at 5.30 pm before dinner. Nothing beats visiting the pool in the evening when you're exhausted. We had lots of fun inside the pool, especially the water slide!
The Lvis ski club members and other students in attendance enjoyed swimming so much so that getting them out was a struggle. We left the pool either way and proceeded to dinner. After dinner, we continued with our homework and met with Petr for an individual debrief. We looked at the video footage of ourselves skiing and he gave us lots of tips for the next day!
After a great night's sleep in the mountains and a hearty breakfast, we set off for more training. Today we could put what we had learned from our debrief into our skiing. Since the weather was beautiful we made sure to carry lots of water and snacks to keep our energy levels high.
We were especially excited because there were lots of international ski teams training on the same slopes as us and it motivated us to try our very best! After a hard morning's training, we stopped to have lunch in the mountain restaurant before we were allowed to have one hour of fun skiing!
WHY SHOULD YOU CONSIDER VISITING SAAS-FEE?
Are you planning to visit Saas-Fee? Various things will convince you to visit this beautiful ski resort as seen below.
There are numerous natural features to marvel at, and picturesque scenery. Saas-Fee is indeed one of the must-visit places for both students and adults. You will get an opportunity to marvel at the high elevation glacier. The great thing about this resort is the Saas-Fee ski school training happens for ten months in the year.
Further, you can traverse through the vast range of piste trails regardless of your skill level. Students will enjoy the vast range of backcountry ski race training camps available at Saas-Fee. Do you plan walking around as you marvel at nature as the students study the environment? If the answer is yes, Saas-Fee is the place to be. Apart from skiing, there are numerous non-ski winter activities for students who don't fancy skiing.
THE SNOWBOARD AND SKI TERRAIN IN SAAS-FEE
Saas-Fee is classified into various areas to accommodate beginners and intermediate skiers. They will have fun skiing along the long red pistes above half of the glacier. These take up nearly 60% of the ski terrain. There are many ski routes for experienced skiers. Visiting Saas-Fee will allow you to travel along the first funicular railway in Europe. This goes up 3,500 meters above the mountain. Eventually, you will ski down to Saas-Fee village which lies at 1,800 meters. in this case, the highlight of the trip isn't the railway but skiing.
When the lifts eventually shut we made our way down to the hostel, collected all our things and made our way back to Verbier. We can't wait for our second training with Petr!