VERBIER INTERNATIONAL SCHOOL (VIS) – A BRITISH CURRICULUM SCHOOL : OUR 2021 SPRING TERM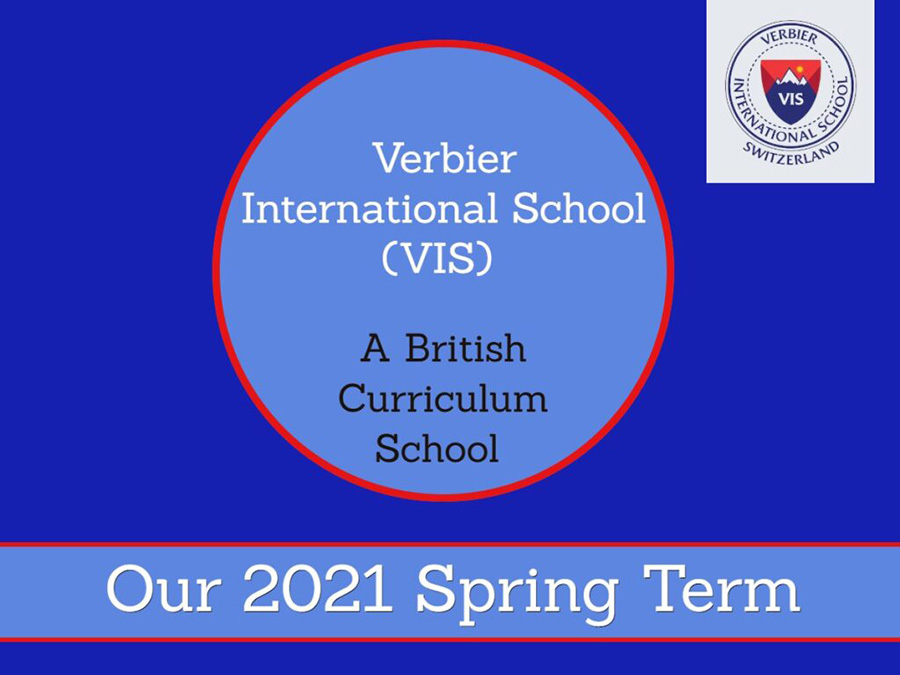 We started our Spring Term by welcoming all our new students, many of them only attending our school in the Winter but nevertheless very much part of our friendly community, since many of them attend in the Spring term year on year.
We were fortunate that the ski slopes were open, and the snow conditions were excellent most of the time, allowing for great enjoyment while skiing, free-riding, or training to prepare for Swiss or inter-school competitions.
The latter were sadly few and far between, but we managed to hold our all-school slalom competition in the best weather and snow conditions of the season.
The students absolutely loved it! The only opportunity, due to current health regulations, when students, parents, and teachers could celebrate our friendly and united community.
Verbier International School has built a great reputation over the years for giving maximum attention to each individual, allowing children/adolescents to gain self-esteem and self-confidence – two elements essential for learning in the best possible circumstances.
Despite its steady growth, the school is keeping and will continue to keep, the warm family atmosphere that we all enjoy. Happiness is another vital ingredient to build successfully a thirst for understanding and discovery rather than rote learning.
In this we adhere, starting at an early stage, to the IB learner profile. Respect and compassion for others are cultivated in all aspects of school life as well as a healthy and courageous approach to each challenge our students meet, whether they be academic or not.
Many very important landmarks took place during the term, pointing at developments that will see the school moving forward and greatly enhancing what it has to offer both academically and in its co-curricular activities.
In December we applied for, and were granted, accreditation by CIE (Cambridge International education) which enables us to be an exam center for their exams; indeed, several of our older students will be sitting their IGCSEs in May and June – a first in our splendid school lifetime.
We are able to offer a challenging array of subjects despite a small cohort which, no doubt, will grow in the very near future. A totally dedicated and well-qualified team of teachers ensures each and every student is taught and supported according to their needs. Our Secondary school is on its way to great things!
Our Primary school continues to provide our younger pupils with a warm and attentive approach to teaching and learning. Chalet Mascotte, their home, is a hive of activity, full of happy and busy little ones.
Again, the team of primary teachers is impressive, as shown by their total commitment not only to educating our boys and girls but also to creating an atmosphere of mutual respect and trust. They arrive at the Secondary school well-prepared for the challenges ahead thanks to a seamless curriculum.
Another landmark this term, was the decision to open a small Boarding House to encourage a larger number of secondary-age students to enroll with us. Chalet L'Epervier will be home to between eight and ten boys and girls who will be made warmly welcome by their resident House Parents.
It is going to be as close to a lovely and happy family as can be, thanks not only to its small size but also to the sympathetic pastoral care. This may well be the beginning of greater things. Weekend Activities which will be provided will be dealt with later.
A new Headmaster has been appointed for September 2021, selected among one hundred applicants, to steer the ship into new waters. Mr. Esmond Tweedie who is married and a father of three comes more than well-equipped for the job.
After studying at Eton and Durham University, he gained his stripes at Oundle School, one of the largest private schools in the UK. Following this and over the next eleven years, he developed a very successful career at Aiglon College, an internationally renowned alpine Swiss school in Villars (Vaud).
The whole school is looking forward to his visit during the Summer term, before welcoming him and his family at the beginning of the next academic year. No doubt the school will continue to thrive in his capable hands.
Verbier International School in fine fettle! Given the many extremely positive decisions which have been taken and implemented during the last four months, it is looking at a very bright future.
With an extension of its international intake, consolidation of an already strong academic environment, and a real determination to multiply the opportunities to discover, on-site (de visu), all that Switzerland has to provide, culturally, creatively, and environmentally.